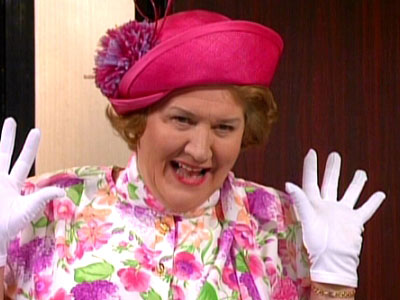 Mrs Bucket.."It's Bouquet"
Tomorrow night, I am attending a formal dinner – 15th Anniversary for my husbands work.  I have had to find something formal for the occasion.
I want to look like a "gorgeous" mother, one that still looks her best EVEN though she has SEVEN children.
Can some of you with large families relate to what I am saying here?  
Whenever, I attend (or all of the family) a work related function.  I am made a 
spectacle
 of "this is HUSBANDS Name wife, would you believe she has SEVEN children".  This happens all the time.  Then you get the usual questions; are you having any more, you must have your hands full etc etc…(you know the drill).
Even when my husband and I have gone to a work function (without the children) we are always presented to the entire guests "Mr and Mrs ….have SEVEN children", this could be talking in general or announced over the microphone.  
The last formal dinner I went to with hubbies work was 5 years ago (their 10th Anniversary).  I had a newborn with me, was breast feeding and still had leftovers from the birthing belly.  So 5 years later I wanna look good, just in case they do the announcement this again!
I have always tried to look my best when I go out  (especially when I have all the children with me).  This includes some make up on (even if it's just cover-up), blush and a bit of lippy.

If you have a lot of children, you need to show the world that you are confident and able to handle anything that gets thrown at you (meaning rude comments by strangers).

If you look clean, tidy, and even elegant it does make a difference. Lets be honest, when you see a woman trudging down the street with 5 or more grotty looking kids (no shoes, dirty clothes, un-brushed hair), and she is wearing ugh boots, ripped jeans and a 'fag' in her fingers, no make-up and matted hair, what are your first thoughts?
Keeping up Appearances also makes the hubby happy, and interested in you too!  
So go on, go out and get a new hair style, put some colour back into your hair (get rid of those grey's that are popping up), wear some make-up, put on some nice clothes.  Be confident and show the world that having LOTS of children is a breeze!