Forget the children's messy rooms…….how does yours look?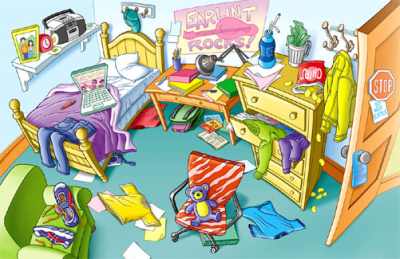 For most large families; running a busy household and keeping on top of the never ending washing & laundry, meals & cooking, housework, cleaning and extra chores etc can take its toll. Sometimes these tasks can also be hard to maintain. The above can be achieved with regular routines and allocating chores or responsibilities within the family.
Keeping bedrooms tidy is up to each individual in this house (depending on their age of course). And when it comes to the children's bedrooms, some are neat and always tidy and other bedrooms (my teenage daughter's) are a complete and utter disgrace.

On the other hand….I must admit; although mine and my husbands room is not as feral as my daughters, our walk-in robe does become a dumping ground for things you want to hide out of view or where "Santa" puts those stored up presents for upcoming birthdays and Christmas.
The parents room, is usually the room that gets neglected. No visitors go in there (usually), so one tends to just close the door and deal with it another day.
Today however, I want to share the before and after of my walk-in-robe. Hubby (who already has most of the storage areas), decided to take MORE of my section for his own. Hence, I was fed up and got in there and did a major sort and fold.
BEFORE: Upon entry to my robe you see MY side; although hubby has put some of his trousers to the left of my dresses and coats.
A chair is in the way, with more clothes over the top. The top and bottom rails are mine, yet hubby has put MORE of his stuff to the far right as well….jackets and suits.
To the right (or centre middle section) more of his clothes have ventured over to my side. All the basket storage is mine (yet the two grey t-shirts on my right top basket are his). The 2 shelves above and all to the right (including the 2 x sliding wire baskets) are his. We share the shoe rack. I don't have many pairs of shoes due to my bad foot – (shoes are costly and hard to come by with my condition).
Next to the right, hubby has two rows of hanging space and another 3 extra sliding wire drawers. You can just see an empty pants hanger to the right up near a woollen vest he is not using *sigh*.
This mess was really getting to me and being rather busy lately, just finding the opportunity to tidy it was a challenge….but I have finally managed it, and even added a nifty organiser from IKEA too (see way down below)………
Now the 'tidy' AFTER photos:
Shoes moved and handbags hung up high!
I do own one pair of heels…..hidden in the Bared box under the flip-flops.
Look the pants are now hanging where they should be!
Hubbies gym bag ready to grab of a morning.
Ikea is fantastic; I bought a few of these KOMPLEMENT Multi-use hangers (2 for my wardrobe and one each for the girls rooms).
Hers (mine)
His (hubbies)
Now that my wardrobe is neat and tidy…I wonder how long it will last….only time will tell.