Those that have been following the blog (and possibly the facebook page too) may have read recently that I was fortunate enough to tag along with hubby on one of his business trips.  This being the first time EVER in 14 years of our marriage!
You can read about my excitement here in the Time out! How often do mothers get to do this? post.  For those who LIKE my Facebook page, some photos of my adventure were posted on the wall. However, for the few that may not be inclined to use Facebook, this post is also for you (so no one is missing out)!
As it took all week for me to pack my suitcase (between the constant family interruptions) it turned out that I actually packed too much & quite frankly too many warm clothes.  The weather was glorious, warm and sunny. My long sleeved tops and thermal wear I packed stayed inside my suitcase for the entire 4 days while in Hobart Tasmania.
Day 1:  We arrived around 3pm on Sunday 28th October; jumped in our hire-car and drove to our place of accommodation.  Below we are about to cross the Tasman Bridge and behind in the distance Mt Wellington.
After checking into Salamanca Inn All Suite Hotel; hubby had some time to kill before having to attend his pre-conference registration evening.  So seeing it was such a beautiful afternoon, we decided to go and explore that mountain.  Driving upwards was quite an easy drive (considering how high it was) and the cliff face was amazing ~ this photo does not do it justice.
At the top these words spring to mind; amazing, breath taking, mesmerising.  Hubby loved it and mainly because of all the walking tracks.  If he had more time, he would have loved to go walking for hours up there.
As you can see, the rocks were jagged, twisted and none alike.  Hubby climbed to the top of the pinnacle, however I sat below (after climbing a few boulders with my stubborn foot) and watched him standing on the pinnacle below the pyramid shaped metal frame.
Obviously this photo was not taken by me due to the snow; however we did find small clumps of snow around the green foliage areas of some of the smaller sheltered rocks and shrubs.
Upon looking up google images, I now see there was a lookout we missed  overlooking the harbour area which was in front of the pinnacle area. We did however find another on the back face of Mt Wellington ~ looking over a wilderness and a stretch of hills and more mountains.
The view again was breath taking yet there was something else about this side of the mountain; a complete and utter silence.  All was still, no wind nor breeze, only the sound of ones breathing could be heard gently. This overwhelming, perfect and majestic silence was something that I have never had the pleasure to experience up until now. Standing in this complete silence made one think (for just a moment or two) that all the troubles and trials of the world no longer existed.
Time passed quickly as we had to depart from this paradise.  Work beckoned so I hung out at the Inn until dinner time.
The accommodation we stayed in was lovely and had a feel of home (rather than your average cramped for space hotel room).  The fact that I could also open a window with complete fresh air and no air-conditioner to battle with (my sinus problems didn't stand a chance) was a bonus in many ways that one.  The double windows made for an excellent drying area (a mini hot house) for my wet swimmers.
You did read correctly by the way, as I did go swimming.  The Salamanca Inn had a private swimming pool on its 3rd floor.  This I used on a couple of occasions.  In fact it was my own private swimming hole as I had it all to myself!
That spa was fantastic too!
Dinner Sunday evening was very relaxed as we walked around the water fronts searching and reading various menus on their windows till we found one that looked good.  I had to go to google maps street view for this one (as I didn't recall the name of the restaurant), but it did have huge heavy doors that were very hard to open (no one would be able eat and run in a hurry that's for sure).
Day 2: Monday, 29th Oct, was rather an early start for hubby, however we both went and had breakfast in the hotel restaurant ~ not being a breakfast person (partially because there is no time during the morning school rush, and weekends are for sleeping); it was a lovely treat to have someone make it and sit down to a cappuccino or two; rather than me preparing a rushed breakfast for the children before school (did I mention I took NO children with me on this trip)?
After breakfast, hubby went to his conference, whereas I used the pool (see above).  After a lovely long shower (not having to worry about the time, a knock or bang on the door or if the water would turn cold) I got ready for some (kid free) shopping !
Hobart is quite easy to get around and thankfully I looked up where I wanted to go before hand.  The hotel room did have a desktop computer we could use, however I must now tell them (as I didn't get the chance while we were there), that they really need to upgrade their system, software and Internet package ~ as it was extremely slow and useless.  My husband needed to open an emailed file in preparation for his conference, but was unable to do so.  I almost took my laptop with me too, however because the hotel provided the computer facilities I thought nothing of it.  Luckily my mobile phone has Internet and a built in GPS so I found where I needed to go.
After parking the car in this multilevel car park ~ I asked a passer-by for directions (and also texted a friend who lives in Hobart).  My morning expedition was fantastic as I had two shops I wanted to visit that being Laura Ashley and Faulls Shoes.  If you haven't read my predicament when it comes to shoe shopping, this is why I sourced this particular shoe store.
Before entering Centrepoint Shopping Centre I stumbled on W-Lane and picked up a bargain.  Only $10 for a $89.00 skirt.  My next stop was a little way along and after trying on 3 pairs of Ziera shoes, I walked away a happy girl as I can now add another pair of shoes to my small collection ~ and guess what, they are NOT black, and wonderful for summer (if you dare to click the image, yes that is the correct price I paid).
 As for Laura Ashley, no bargain there at all….I just decided to treat myself!
Here I sat on the corner of Elizabeth Street mall watching the double-decker buses go by and took in the scene.
By this stage, it was well and truly past lunch time (I hadn't stopped as I was too busy shopping), I then found a small shop that my friend told me about and started walking to what I thought was my carpark.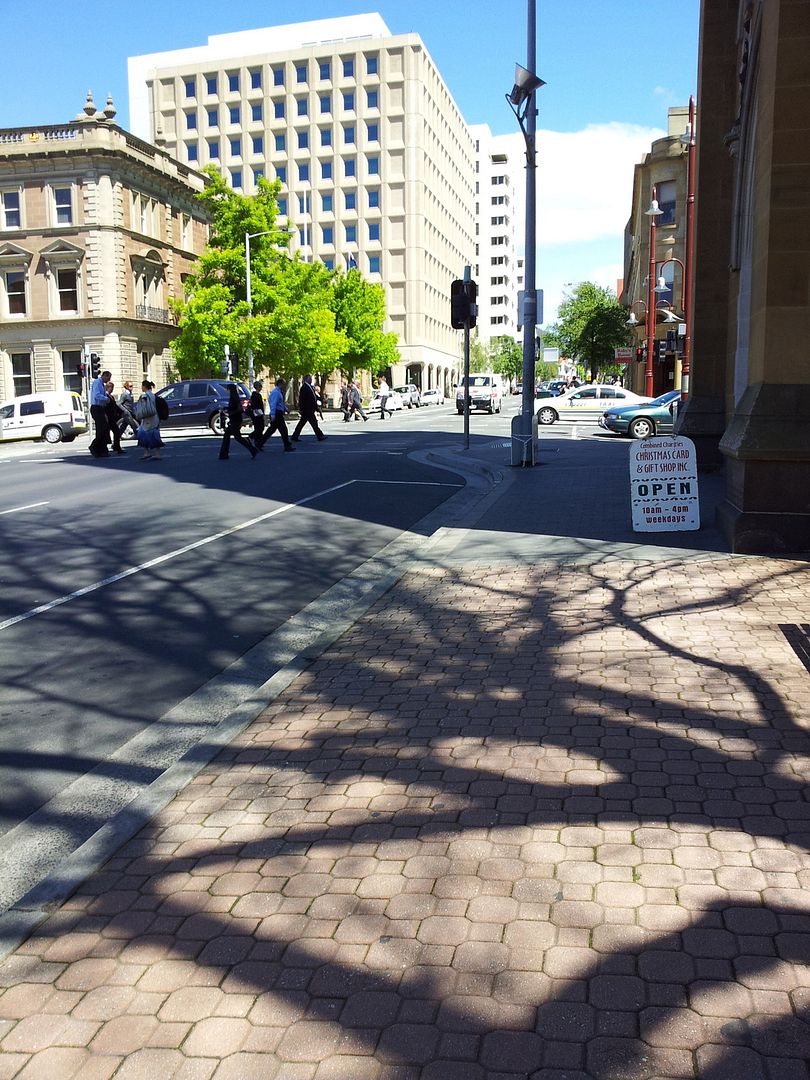 But somehow I got lost along the way and ended up here….where I found some stairs that one would see in American movies….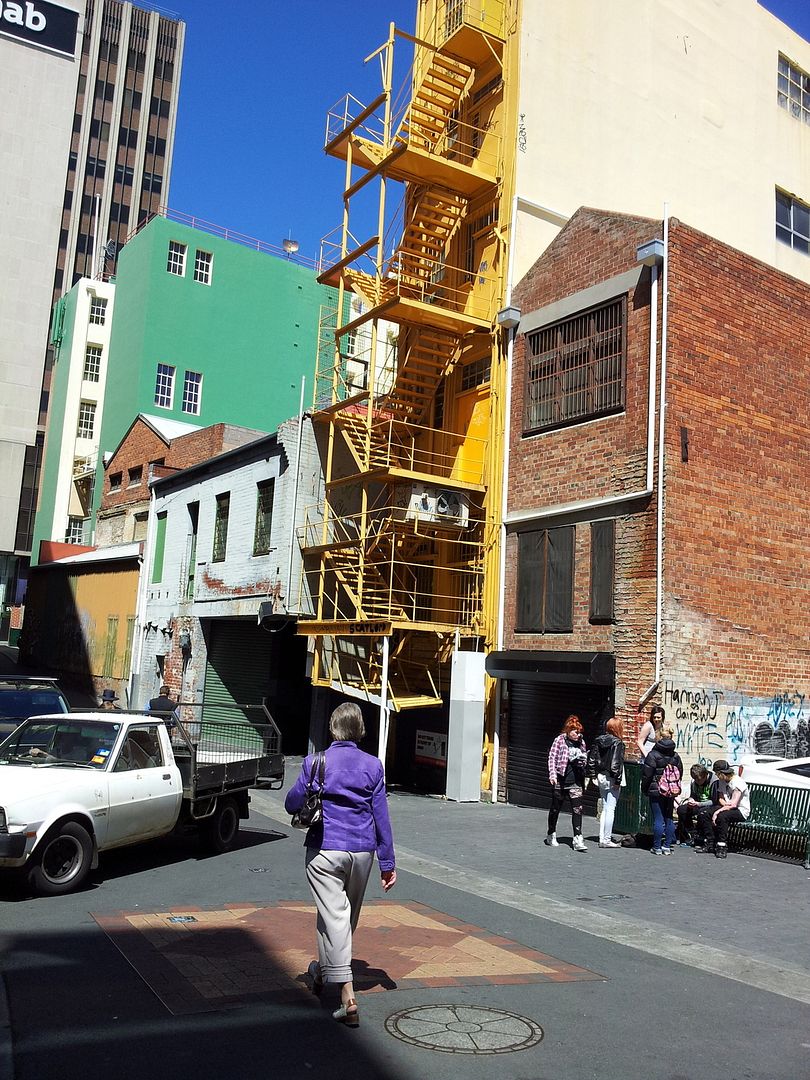 Finally after again asking for directions (and the use of the GPS) I found the entry lift to the carpark along with where I needed to pay for parking. Unfortunately, I now had a lost parking ticket and was forced to speak into the machine.  Again I was given directions to the office and the man was kind enough to issue me another ~ luckily parking was only $3.00. It then took me a good 45 minutes to locate my car on in this multilevel carpark.  The lift directions said one thing, but outside the lift said another (a printed sheet of paper on the wall).  They had repainted the level colours, but not changed the lift colour code inside; you can imagine how many times I got in and out of the lift, walked up and around the ramps to find a car that I could only recognise by its colour and number plate ~ thankfully I was able to use the remote control key lock to locate it WHEN I found it!
Returning to the Inn, I dropped off my shopping as it was now 2.00pm.  I still hadn't eaten and went directly to the hotel restaurant  the waitress and chef were kind enough to allow me to order, as lunch finished round about the time I entered.  This is what I ordered and it was absolutely delicious.  I rarely eat fish unless I have too, (I don't do seafood), but this was a winner!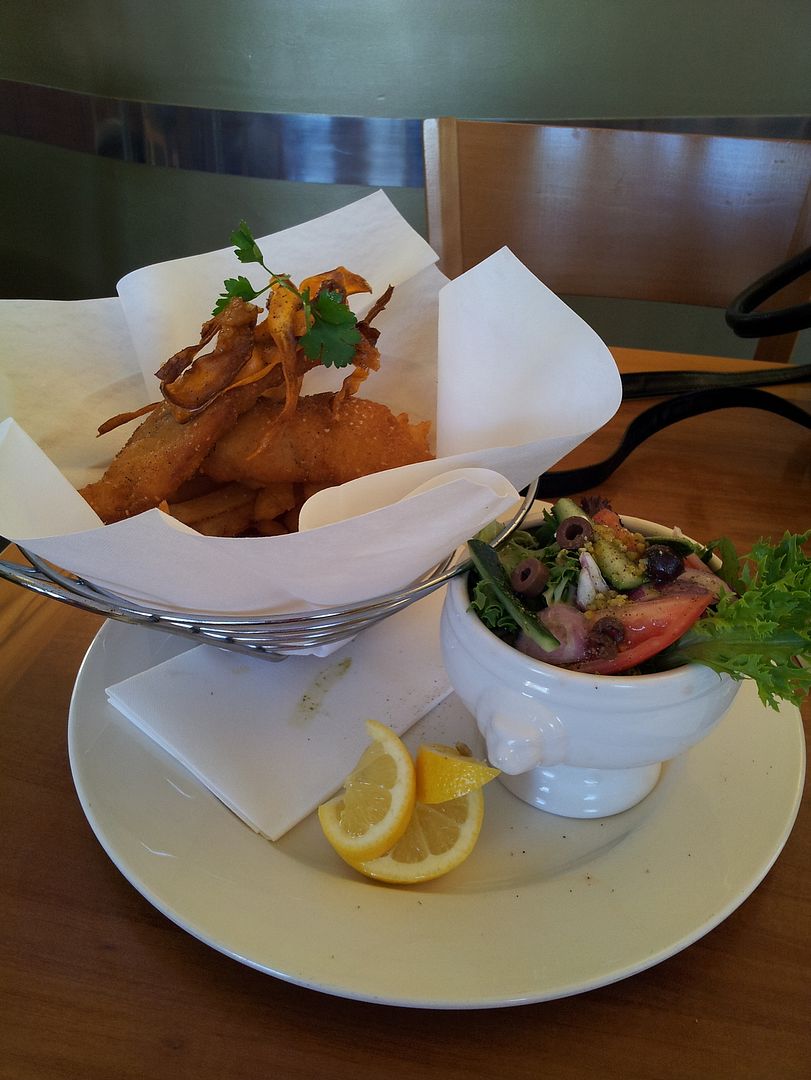 After my light lunch, I went on foot and explored Salamanca Place, some shops and the docks; here are some happy snaps!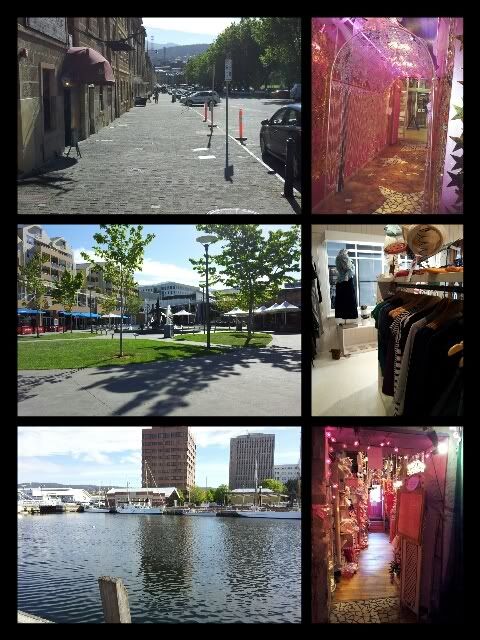 That evening, I was invited  to attend a work dinner with some hubbies old work colleagues. We ate at the Mures Upper Deck  a seafood restaurant  (I ordered steak ~ apologies seafood lovers, but the steak was the best I have had in a while)!
Main = Steak ~ 300g Cape Grim Angus Scotch Fillet ~ Chargrilled and served with herb roasted potatoes, mushrooms and a Cafe de Paris butter.
Dessert = Affagato ~Espresso with choice of liqueur and vanilla bean ice cream (this was wow and I could have had two)
Day 3: Tuesday, 30th Oct ~ this day was going to be special as I was going to meet and catch up with the Phenomenal Woman who also like myself has 7 children and blogs.  To both our disappoint, Crissy came down ill that very morning which dampened both our plans.  
So after a lazy morning, I got my act together and made a day trip to Richmond Village.  My first stop was Australia's oldest existing Catholic church ~ St John the Evangelist; built in 1836 and its cemetery.
The cemetery I found rather fascinating; with graves as old a 1838 (that I could find).  Two graves were way down the bottom of the hill, unable to be reached or read.  They indeed looked very old and seem to have been deliberately set alone away from the main part of the cemetery.  
Next stop was to take a photo of the old Richmond bridge, built in 1823; it was quite narrow and busy, so I didn't get a chance to walk over it.  They were also doing some repairs on one side of the bridge, so you couldn't walk underneath.  
I then hopped back in the car and parked on the main road and made my way on foot to the Richmond Gaol, this I loved and was game enough to shut the door and stand inside a solitary confinement cell (men section) for about a minute.
I also put these ankle chains, which were quite heavy.
Afterward I went exploring the shops and bought a few little bits and pieces to take back home.  It was a shame hubby wasn't be able to come along as I even found a brewery!
On the way back I went into the Wicked cheese co. and nearly bought some, but also thought of how it was going to travel.  They apparently have one shop in VIC, but it would seem a bit far from me (however, it was really nice cheese)!
I also passed quite a few wineries, however being the driver and not had lunch again today, I thought I had better not start wine tasting!
When I got back into Hobart, I drove to Eastlands Shopping Centre –  this was a complete waste of time I walked in and out within 10 minutes and again made my way back to the hotel, where I took another swim.
That evening, I then went with hubby to his Conference dinner. There were over 300 seated in the conference room at the Hotel Grand Chancellor.  If you are wondering what the conference was click here, but basically a room full of mining and manufacturing industries and companies and lots of engineers.  The conversation between members (including my husband) was rifting…..boring, thankfully, I moved and sat next to another mining wife (much older than me) where we were able to have a normal conversation.
They did have a famous guest speaker too ~ can you guess who this is?
Day 4:  Wednesday, 31st Oct ~ On this day I chose to go to the MONA ~ Museum of Old and New Art by ferry. I got on the 11.00am and returned for the 3.30pm ride.
Personally I love art and took this subject for for my Yr 12 elective, I prefer old art ~ landscapes and portraits eg. Tom Roberts, McCubbin, Monet, Renior, including sculptures and statues etc. But the MONA had quite a different feel.  Actually I found it quite depressing in parts, overwhelming and out there (no at all my thing) and some things very disturbing indeed.
Would I return…..no, take children….NEVER!  If you ever go……I highly recommend not to bring children as some of the art is quite graphic. There are movies playing with very disturbing images, lots of flesh, blood and other bodily parts as well  (being a family website  I will not go into more detail here).  Their website is as bizarre as the museum!
On that note however; there were some great artefacts throughout the museum (I just had to hunt for them) as you are not given a map and everything is scattered throughout the building.  They had an Egyptian expedition with many artefacts yet these were scattered all over the place and you HAD to walk past something you wish you hadn't seen.
This is one of the artworks in the modern part of the museum which I thought interesting…..those are real bubbles ….(I blew and made that hole on the left one… oops). 
After I had seen all I could handle, I had time to kill before the ferry arrived (if I had know an earlier one was available I would have gone on it).  But instead I found a cafe and had a quiet lunch.
On my return to the car, I noticed the parking inspector had caught me out.  The parking meters in Hobart only allow you to put in a certain amount of $$ into the ticket machine….no idea how one is meant to park all day if on a ferry?  Perhaps I should write a letter of complaint….however, the fine was much cheaper than what VIC would have issued!
Seeing the conference finished around 3.00pm, I met hubby for "after work drinks" at the conference hotel bar. We stayed for a while and then had dinner around 6.oopm at the Drunken Admiral Restaurant ~ my 14yr old daughter would have loved this place (as she is into the "Pirates of the Caribbean" movies). Click on the link and gallery, the whole place is decked out like a pirates ship. (I only got these two photos).
After dinner, we "made haste" to the airport and flew back into Melbourne around 9.30pm.  It was a rather late night by the time we arrived and drove home.
So there you have it, my TIME OUT Tassie Holiday!  I had such a great time and definitely hope to return some time soon! The following is on my bucket list for my next visit:
Visit Port Arthur ~ I ran out of time
Salamanca Markets ~ make sure I am there on a Saturday
Bruny Island Cruise ~ this looked liked fun 
Mt Wellington ~ that silence is something that needs to be revisited for sure